Audio/Voice DSP reference design platform is developed based on the CEVA-TeakLite-4 DSP core and fabricated at SMIC's 55nmLP process, running up to 500MHz. The platform provides designers with a powerful means to add "smart and connected" capabilities to these devices, including always-on sensing, local processing and intelligence connectivity. The platform also provides real-time power measurement that allows developers to improve power consumption of system by optimizing their DSP software effectively. It provides a complete development and demo system integrating DSP and multiple peripherals & interfaces IP, and supports diverse wireless technologies including Bluetooth Smart and Smart Ready, Wi-Fi, ZigBee and GNSS. It can be adopted on mobile, wearable devices, wireless speaker, smart home, surveilance, automotives and so on.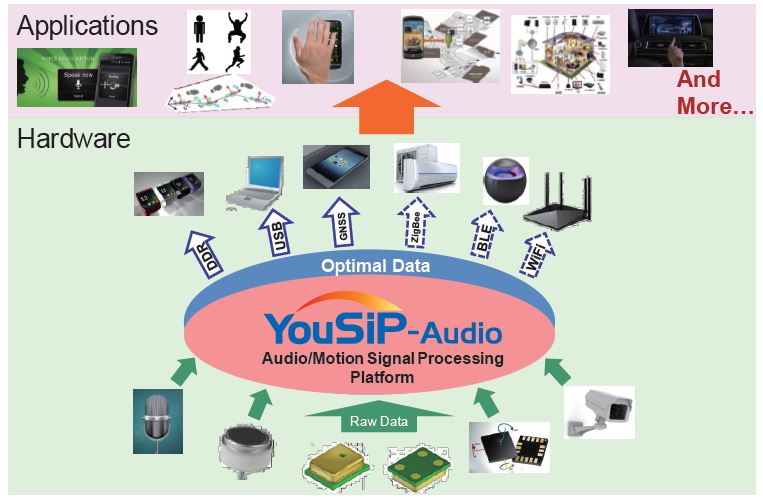 YouSiP-Audio Advanced Application Support
YouSiP-Audio develops a total hardware solution to collect the raw audio, voice, motion, ultrasonic and image signal data and pass them to the host equipments. Developers can be easier to porting their software to verify different applications which can help customer to win the emerging market as voice control, sports management, gesture detector, indoor navigation, smart home, automotive infotainment etc efficiently.
The first amazing function achieved by YouSiP-Audio is voice command. You can control this demo board to play and shuffle music by voice directly. It is a dreamy image that you can talk and interact with equipments around and it will be adopted more in the smart home applications of the future.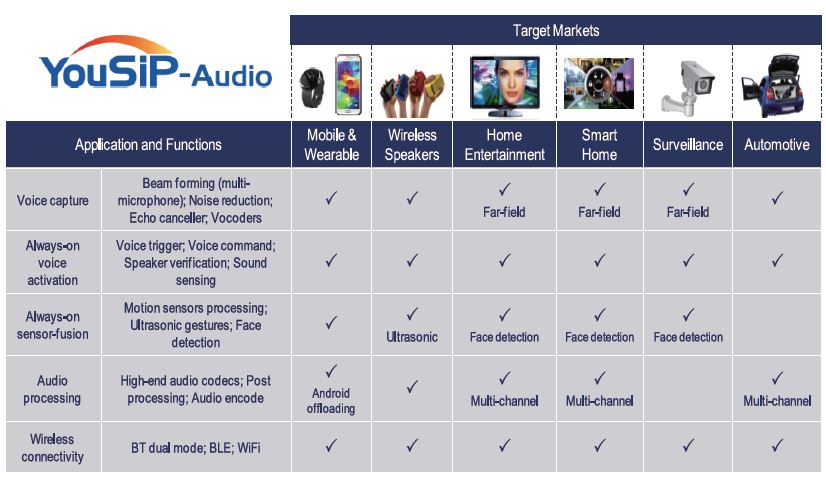 YouSiP-Audio Target Markets
YouSiP-Audio Solution and EVB Board
Strong functions as voice capture, always-on voice activation, always-on sensor-fusion, audio processing and wireless connectivity can be supported by YouSiP-Audio. It can achieve up to 500MHz speed, and provides real-time power measurement to improve power consumption of system by DSP software optimizing effectively. To provide a complete development and demo system, it contains TDM, DMA, I2C, I2S, ICU, Timers and GPIO, especially TeakLite4 DSP and ARM A9 system prototype. Multiple peripheral and interface as digital microphones, sensor I2C I/F, AD audio codec input/output, USB, UART, PCIe and Ethernet can enable customer to configure FPGA, GPIOs, DDR memory, SD card and LCD display easily, and shorten time-to-market of product.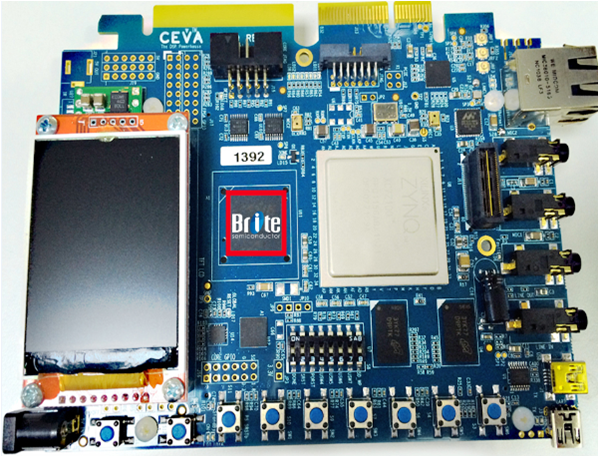 YouSiP-Audio Demo Board